Data-driven insights for the global trade community
智能、直观地分析工具
我们平台采用 机器学习和 数据可视化技术,为您呈现出与国际贸易密切相关地非常清晰且极具操作性的解析。
The World in 2020 with Panjiva Research
What will 2020 hold for the global supply chain? Panjiva Research looks at what to expect from: the U.S., China, and Europe; the state of numerous multilateral trade deal negotiations; the prospects for the shipping industry; and which countries have the most to win, and lose, from trade.
更快捷地找到及评估合法商机
8 million companies and over 1 billion shipment records, just a few seconds away
Search for Importers and Exports
Our technology gives you immediate insight into the companies involved at every node of international supply chains. From manufacturers and buyers to shipping and logistics, Panjiva allows customers to better understand trade around the globe.
让数据伴随您
需要给您的销售团队建立一个潜在客户名单?您可以轻易地导出您想要的结果,然后分享给您的团队让他们去和客户联系。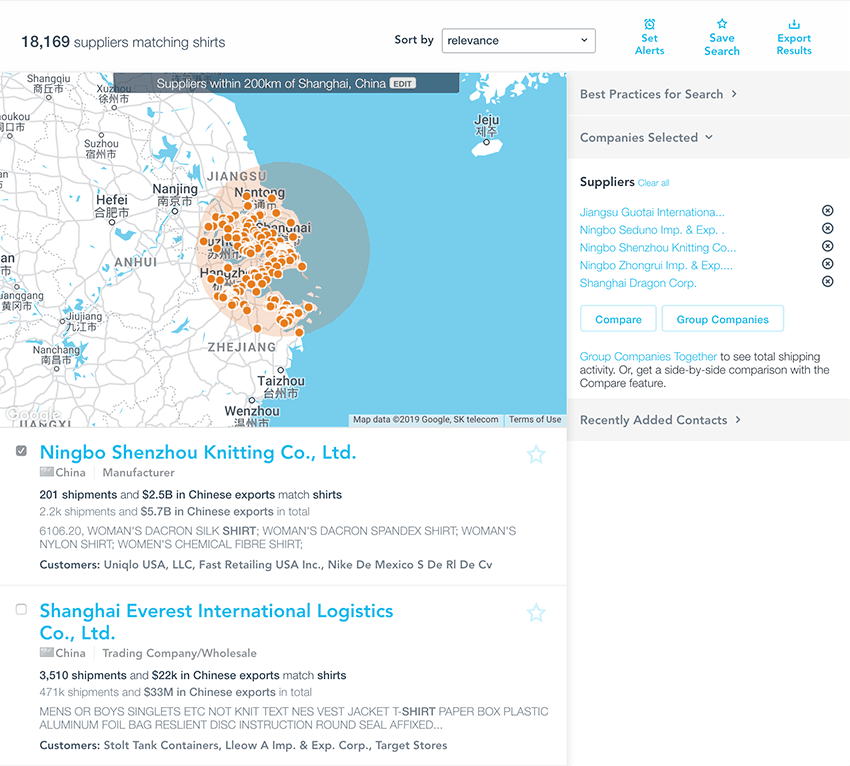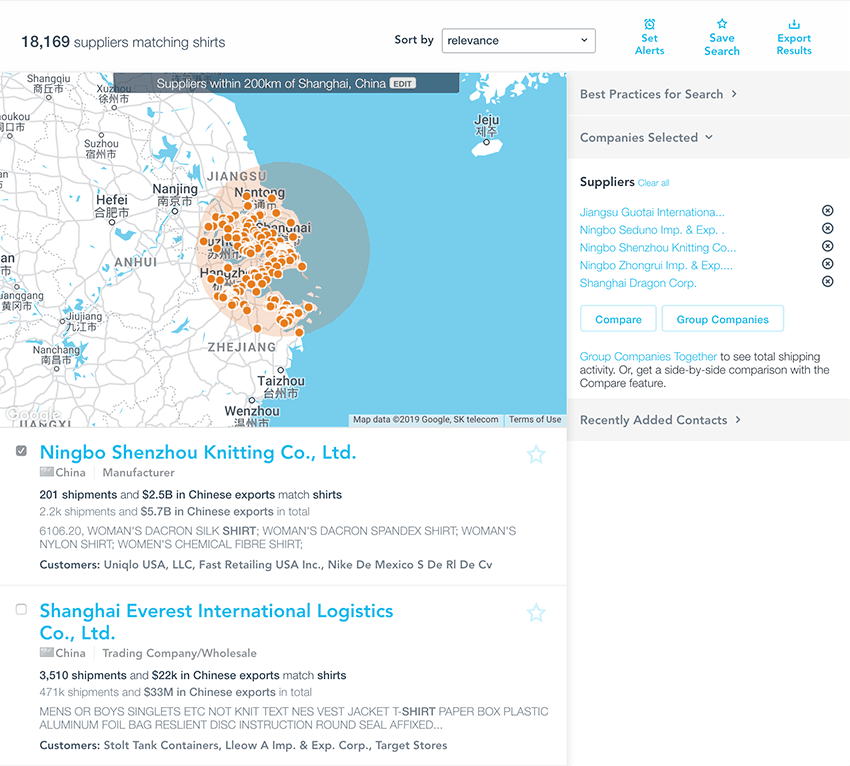 可按照您的搜索方式进行
无论您是想通过产品名字还是产品类别搜索产品,我们能让您很容易的做到。您可以通过商品名字、HS/HTS编码、邓白氏编码和地区进行搜索。
定期收到邮件提醒
保存您的搜索,当一家符合您搜索条件的新公司出现时,或现有的公司有了新的货运动态时,您随时都能收到邮件提醒。
更全面的查看到全球贸易
我们为广大客户提供全球贸易流量95%的宏观数据,
以及全球贸易流量35%的交易数据。
有了这些数据,您就可以决定何时去何处投资。
充满竞争力的解析
通过查看您竞争对手采购产品的区域及货物装运涉及到的企业了解您的市场份额。
风险分析
使用我们平台 来分析贸易航线或识别哪些公司有最具风险的供应链。
销售机会
无论您是在锁定采购商、还是供应商,抑或无船承运人,或是承运人,磐聚网可助您轻松地确认最好的销售前景,助您更多地了解他们的业务,从而与之取得联系。
Xpressfeed™ Access Available
Use Xpressfeed™ to push leads directly into your CRM system or feed data about publicly-traded companies into your quant models.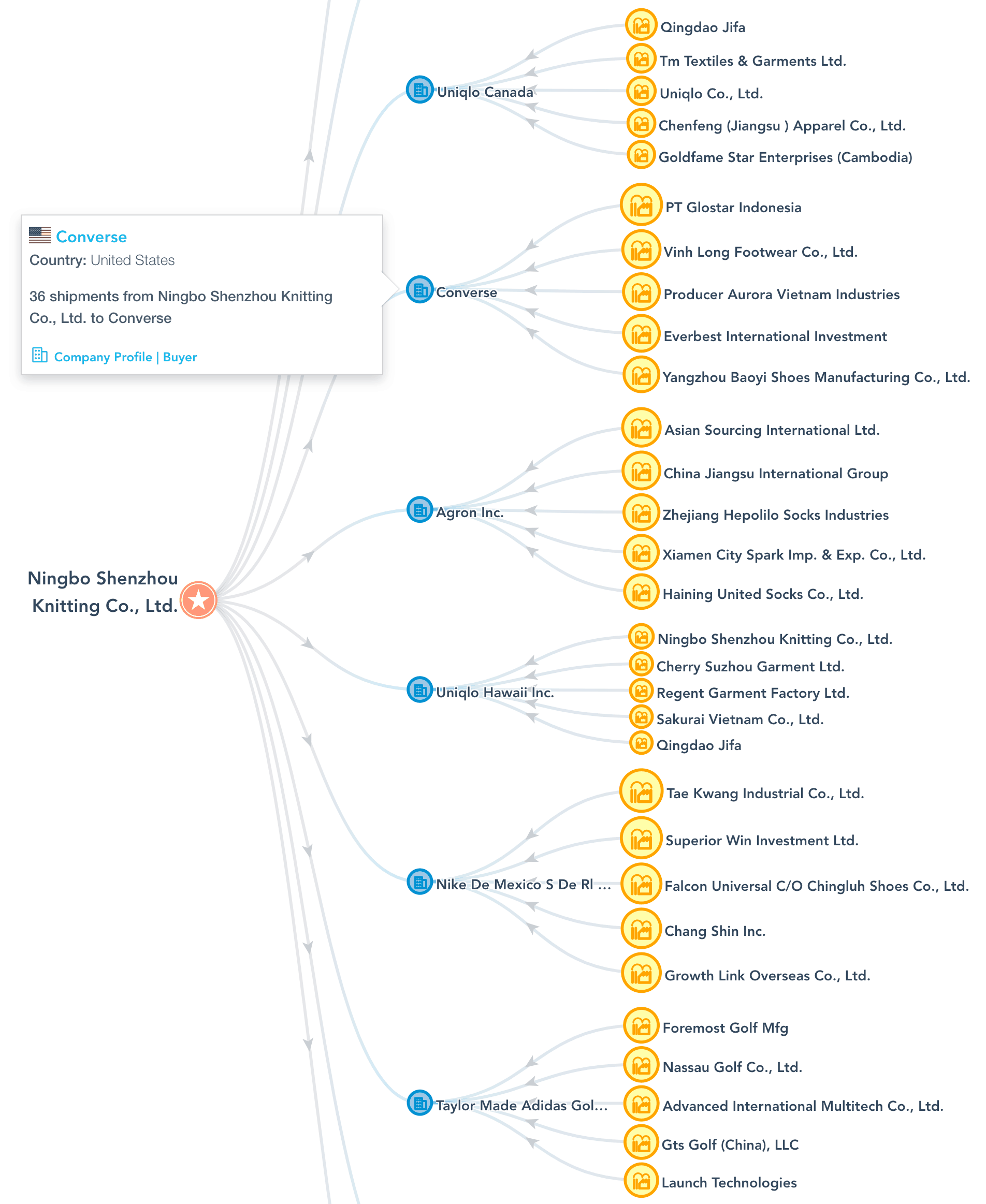 摘选自媒体报道
May 21, 2020
"The punch line with this is that the [import] data for April is maybe not as bad as what was expected," said Chris Rogers, Panjiva research director, in an interview. "That is not necessarily a good thing though, as that may mean the worst is yet to come. April's data is a good reminder that the logistics industry is highly dynamic, and situations change from week-to-week and month-to-month, even though they may be long-term trends."
From Panjiva Research
May 28, 2020
Expeditors International has acquired digital freight forwarding platform Fleet Logistics. Strategically that may help it compete with FedEx, which recently announced a venture with Microsoft, as well as digital-native forwarder Flexport. Expeditors has underperformed its peers on...
More research articles
3,000+ companies trust Panjiva.
申请在线演示
3,000+ companies trust Panjiva